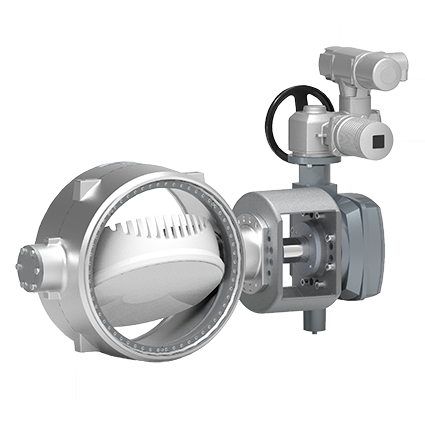 The control valve MAKO is based on our well-proven triple offset valve type MAK and offers the same outstanding reliability all ADAMS valves have. Its disc design with the special shape and flow channels make it special and each of the discs are customized designs based on customer requirements.
Our control valve ideally prevents cavitation while regulating the flow and minimizing noises. The enhanced regulation is rendered possible because of the flow channels on the disc. Another improvement of the MAKO is, that the special form of the back of the disc has been adjusted, so that it creates a change of the flow chart within the first 20 degree and the last ten degree. This leads to a nearly perfect, even percentage characteristic curve during the whole flow area.
We have designed the control valve MAKO to be able to cope with extreme conditions, due to the solid seal located in the body. It offers highest reliability and long-term performance at extreme conditions. At the same time it is the ideal solution if a high-pressure drop is requested.
Construction lengths in accordance with ISO 5752 BS 13 (F16), ISO 5752 BS 14 (F4) and ASME B 16.10, API 609
Valves designed in accordance with international standards, e. g. AD technical instructions, ANSI, API, ASME, ATEX,BS, DGRL, DIN EN / ISO, GOST, KTA, MSS, NACE, RCC-M
Operation: Manual, pneumatic, electric, hydraulic
Tightness on both sides
High resilience to temperatures
Excellent control characteristics
Minimal pressure losses
Creates a change of the flow chart
Even percentage characteristic curve during whole flow area
ADAMS Product range
Are you looking for another valve type or another field of application? In our product search, you have the possibility to filter for your requirements and find the most suitable solution from our broad range of tight shut-off, throttle and control valves, check valves and combined function valves.