ADAMS valves for LNG application
Liquefied Natural Gas (LNG) can be transported easier and safer over long distances and from remote locations than natural gas. Although the transportation of LNG is less dangerous than the transportation of other liquid fuels, there is still a risk which can be minimised by reliably operating valves.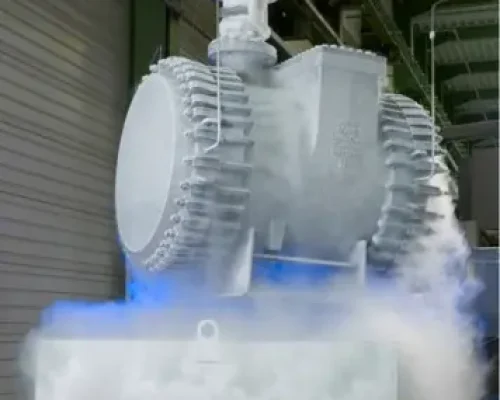 Specialists for cryogenic applications
For more than 20 years we have developed, produced and tested valves for use at extremely low temperatures. During this time, we have continually expanded our expertise. The ADAMS valve MAK, which has been especially developed for use at extremely low temperatures, is ideal for cryogenic applications and ensures complete tightness.
In our large cryogenic test facility (7.30 x 26 metres), we prove the accurate operation of the valves at temperatures of -196°C. In this test facility we are able to test valves up to a size of DN2000. Next to the cryogenic tests, we also ensure the tightness of our valves with other tests in accordance with international standards and specifications. All ADAMS valves for LNG supplied to date are still operating successfully in gas liquefaction plants, LNG terminals and storage tanks.