Hydropower safely under control
Located in the central Alps, our plant in Serneus in the Swiss canton of Grisons has developed to become a specialist supplier of valves for hydropower plants and dams over the decades. Today customers worldwide make use of our know-how in order to install reliable safety valves in hydropower plants and dams. Our company ADAMS SCHWEIZ AG has produced valves for this application at its 8,000-square-metre premises since 1972. Due to its topography and the high average precipitation, Switzerland has a long tradition in the use of hydropower.
Today Switzerland generates 56% of its energy from hydropower. Switzerland's hydropower network consists of over 540 hydropower stations. This environment has always offered us the ideal situation in which to develop perfectly coordinated solutions for the requirements of safety valves for these stations.
Our employees in Switzerland are our guarantee of the highest quality and precision. Just like at our other locations, our staff have remained loyal to the company over many years, ensuring a high degree of commitment and experience. Apart from manufacturing valves, we also provide our customers with help when planning new plants or modernising and refurbishing existing plants. The latter point is a key task in view of the need for carbon optimised energy generation.
Safety for hydropower plants from the Grison in the Swiss Alps
Hydropower makes an indispensable contribution to safe, environment friendly generation of electric power. The fate of both today's world and of the future depends on having a secure energy supply from hydropower plants that are dependable and operational at all times. Analogous to other new sources like wind and solar power, pumped-storage plants are growing in significance as a reliable, swift source of energy with a large storage potential. Safety remains in the foreground when it comes to hydropower plants. Valves and shut-off equipment that are dependable and durable play a vital role to that end. Since 1972, we have been developing, building and examining a product line featuring valves and shut-off equipment tailored to customer needs for hydropower plants. Over that time, our products have been installed all over the world and demonstrated their reliability on a daily basis over the course of decades.
The Prättigau Valley in the Grison is exemplary for the close expertise our hydropower specialists have to the specific requirements pertaining to hydropower plants in alpine areas. Whether the project involves producing new valves or modifying existing ones: We develop complete, individualised solutions optimally tailored to the customer's operational requirements and the hydro plant's design.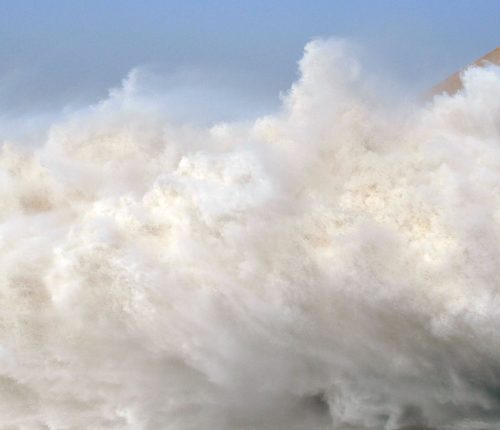 Continuity and competence
As a family-owned SME company, we have grown over the past decades to become a competence centre for developing and producing shut-off equipment for hydropower plants. We are an internationally renowned company and a member of the globally active ADAMS Group, with a total of more than 300 employees and production sites in Switzerland, Germany and the USA.
Our vast experience means we are also in high demand for repairing and inspecting existing shut-off equipment. We offer service that covers the entire spectrum for inspecting valves from the widest variety of manufacturers, irrespective of age, model and application site.
Quality and innovation – An investment for the future
Even after more than five decades of our company's history, we continue to focus on quality, attention to detail, implementing new materials and procedures, and developing new products. Additional plants and investments in production equipment enable us not only to grow in quality, but also in quantity, as well as to continue expanding our range of products and services in order to meet the needs of today's world.
Based on proven Swiss values is the success of ADAMS Schweiz AG – Quality, innovation, flexibility and outstanding service.