Control and Instrumentation
Hydraulics and control systems
For valve operation, we design, build and install hydraulics and control systems to operate systems and parts. The control systems are designed to match the plant's requirements and can be actuated using feed water, hydraulic oil or weight. Our potential combinations of control and instrumentation include closing via weight / opening via hydraulic oil, closing via water / opening via hydraulic oil or pure water (closing and opening with water). Depending on the operating conditions and requirements, we can supply additional components such as sand settling tanks, filters, hydraulics systems, bubble storage, indicator boards, control cabinets and terminal boxes as part of the equipment.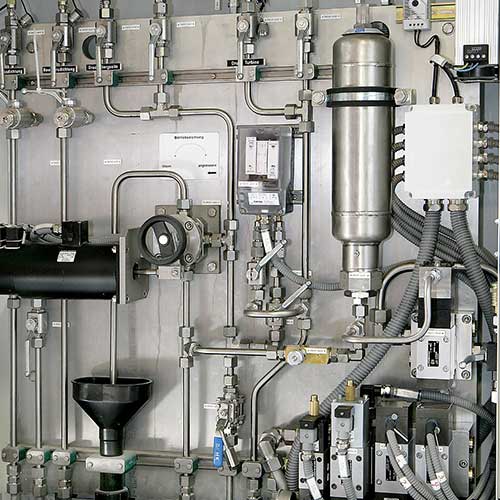 Reliable control and instrumentation systems
The customer's operational requirements constitute the foundation for designing the control and instrumentation systems. Our many years of collaboration with selected hydraulic specialists ensure that the system will meet the highest demands when it comes to both technology and quality. If requested and feasible, we can implement components according to customer specifications, like sliding gate valves, limit switches, etc. Integrating hydraulics and control systems into an existing plant is also one of our core competences, be it, to name but a few examples, modification work on an indication board or remodelling an existing control cabinet. A control system also includes the implementation of expert pipework, executed by our own specialists. Quality pipework stands out due to being easy to understand and by their optimal appearance. Great emphasis is given to this aspect throughout the design process of the valves.