Shut-off and butterfly valves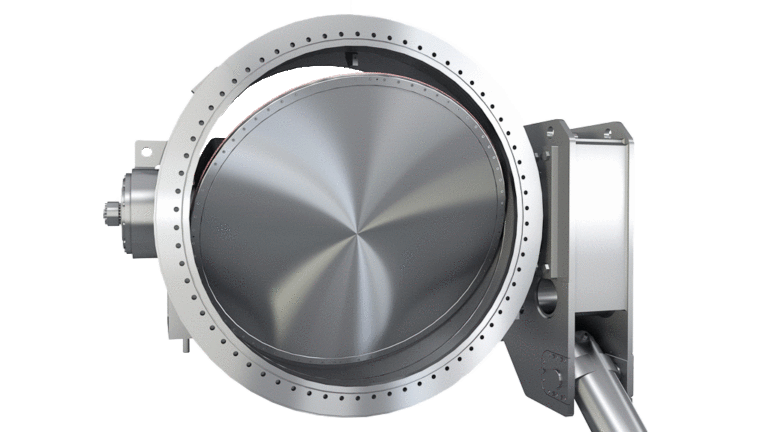 ADAMS shut-off and butterfly valves are suitable for use as safety equipment in emergency shut-off situations and deliver absolute reliability in case of a penstock rupture as well as a turbine guard gainst over-rev. They deliver seal tightness, even in critical situations. The shut-off and butterfly valves are welded constructions using high quality steel, or in some cases made of forged steel. Discs moulded to match flow direction mean there is minimal pressure loss. Both single- and doubledecker (bi-plane) structures are used, depending on nominal diameter and operating pressure.
Stainless steel sealing strips in combination with replaceable valve seals guarantee seal in all operating situations. The self-lubricating bearings are maintenance-free, the bearing seals can be replaced from the outside. The hydraulic servo drive and counterweight are flanged directly to the valve housing and do not require any additional anchoring. End position dampening equipment facilitates optimum closing characteristics to prevent water hammering in conduits.
Valves designed according to international standards: DIN EN, ISO, ANSI, ASME, MSS, AFNOR, GOST
Operation: Closure with counterweight, hydraulic or electric. Electric or hydraulic opening
High quality steel
Hydrodynamically shaped
Tight in all situations
Minimal pressure loss
Self-lubricating bearings are maintenance-free