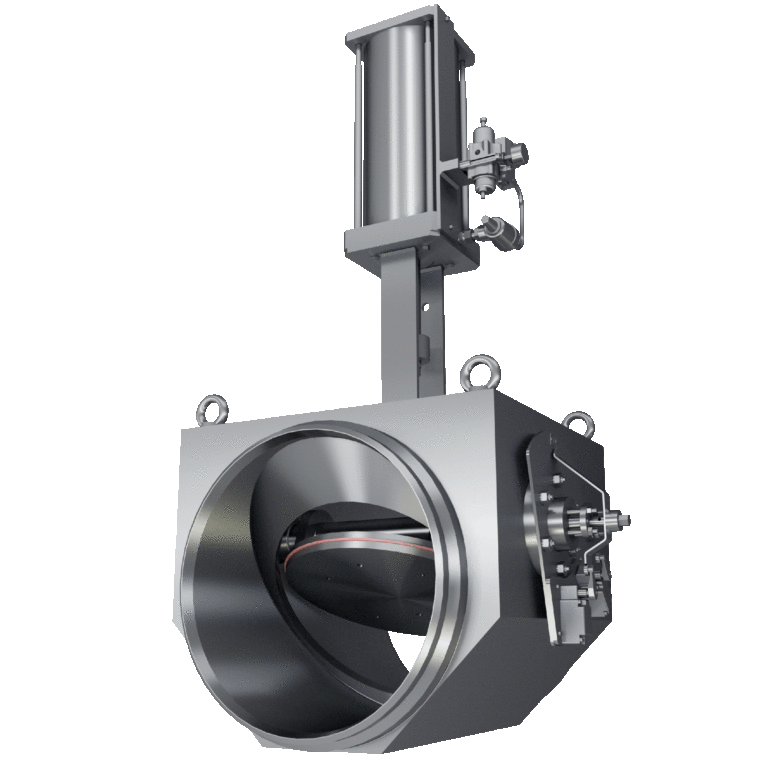 The check valve FCV is a robust valve with low inertia moving parts to withstand very fast closure with complete reliability. The inclined tilting disc design ensures inherent gravity closure, stable operation, low pressure loss, and fast response.
This check valve has continually evolved through many years experience with large steam turbines and compressors. On loss of load, steam turbines risk rapid acceleration due to the stored energy in the feed heating system. Steam flow reversal can occur in less than 0.2 seconds. Compressors have a similar problem when emergency shut down may lead to rapid flow reversal. These occasions cause very high impact forces on check valve closure thus necessitating the special design features of ADAMS FCV valves.
A variety of control sytems
The check valve FCV can be supplied with a variety of control sytems and accessories to suit customer requirements. Where power assisted closure is specified, this will usually be by a direct acting pneumatic hydraulic or spring-return actuator operating via a pad, avoiding the friction of a shaft seal. Body and disc are of forged or fabricated steel. The seat and disc tips are hard-faced. The ADAMS exclusive inclined cone seal system guarantees freedom from jamming, positive shut-off, and long life with low maintenance requirements.
Construction lengths in accordance with ISO F 5 (butt-welded version)
Valves designed in accordance with international standards, e. g. AD technical instructions, ANSI, API, ASME, ATEX, BS, DGRL, DIN EN / ISO, GOST, KTA, MSS, NACE, RCC-M
Operation: Self-closing, pneumatic, hydraulic
Robust forged steel construction
Outstanding sealing characteristics at both high and low operating pressures
Short closing distance
Absorbs high dynamic forces
No jamming at seat
Low internal friction
No internal bolted joints
Minimal maintenance; also possible on site
Absolute operating reliability at high closing frequencies
Inspection/mounting port
Internal steam heating
Accessories for remote control
Flanged design
Power assisted closure by direct acting pneumatic, hydraulic, mechanical or spring-return actuator
Features of the check valve FCV
Ultra-fast closing non-return valve
Triple offset design with inclined conical sealing system
Optimum flow opening characteristics
Inherent gravity closure
Low inertia
All parts designed to tolerate high impact
Fast response
Butt weld ends (body length: ISO F5)