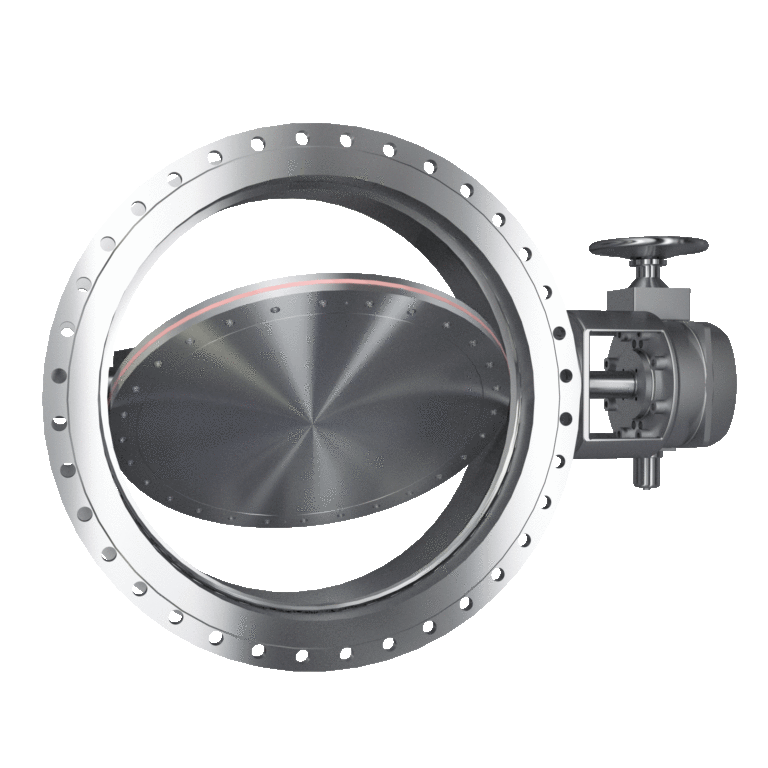 Utilizing the special ADAMS sealing system the HTK guarantees ultra-tightness for cryogenic and high temperature services
Due to the triple offset sealing system the disc of the block and control valve HTK moves smoothly and free of friction. It opens uniformly at all points along the specially designed body seat. When the disc is closed, the seal ring is compressed tightly into the seat without jamming or extruding. Temperature variations are reliably compensated without impairment of function.
All seal materials are reliable and designed for long life. Shafts are sealed by resilient seal rings or stuffing boxes. Choice of materials is determined according to media, pressure, and temperature conditions.
Special HTK Design
A special design of the block and control valve HTK is available for extreme high temperature services (950 °C/ 1742 °F) such as expander turbine power recovery systems for catalytic crackers in refineries. The body and disc seal elements are robust and have an additional wear resisting hard facing. Quick closing/ opening
Construction lengths in accordance with ISO 5752 BS 13 (F16), ISO 5752 BS 14 (F4) and ASME B 16.10, API 609. Custom-made construction lengths on request
Valves designed in accordance with international standards, e. g. AD technical instructions, ANSI, API, ASME, ATEX, BS, DGRL, DIN EN / ISO, GOST, KTA, MSS, NACE, RCC-M
Operation: Manual, pneumatic, electric, hydraulic
Optimum shut-off
High temperature compatibility
Progressive sealing system
Reliable function in any position
Excellent flow characteristics
Combination of different functions: flow control and shut-off
Particularly suited for high cycle operation
Block & bleed design
Fast opening/closing function
Design for extremely high temperature applications
Seat hard-faced
Heating jacket
Steam purge at seat
Disc locking device, mansafe design
Spring-loaded stuffing box
Emission-free shaft sealing, complying with Clean Air Act 1990
Stuffing box design for inservice packing replacement
Butt weld and special end connections
Features of the block and control valve HTK
Tight shut-off and control with metal-to-metal seal

Triple offset design with inclined conical sealing system

Solid metal or laminated metal seal

Operation: manual, electric pneumatic, hydraulic

 

Excellent flow characteristics

Combination of different functions: flow control and shut-off

Particularly suited for high cycle operation