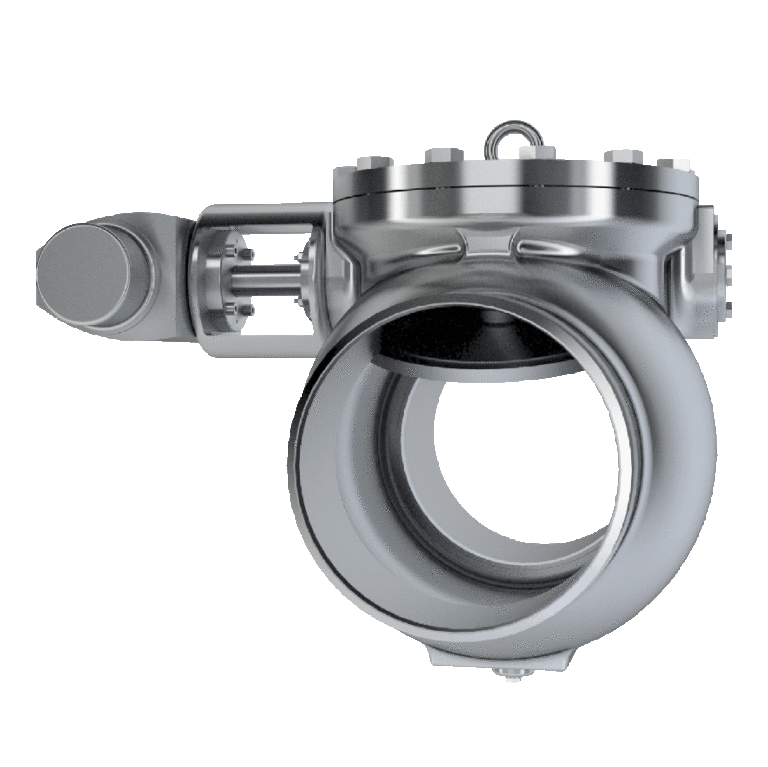 Ideal protection from backflows for steam turbines
Extremely reliable check valves are needed to protect steam and gas turbines from reverse flows. With their reliable, non-jamming closures, our check valve SCV is optimally designed to fulfil this important protective function.
SCV check valves efficiently protect steam and gas turbines from backflows coming from steam extraction pipes. This is guaranteed by a free-swinging model that closes automatically by means of its own weight. It enables it to swing closed against a double bearing friction moment without the assistance of a drive system. Extremely short closure times of under 0.5 seconds are possible. A hydraulic, pneumatic or an electric fail safe drive can be added as a closure aid by means of a two-part stem construction.
The check valve SCV is a robust cast valve with butt-welded ends. Welding neck flanges can be welded on. Its disc is made of chrome steel which reduces abrasions. In addition, the discs of installed valves can be replaced via the inspection and assembly opening. The seal seat is manufactured by deposit welding and can be hard-coated if necessary.
Construction lengths in accordance with DIN EN 558 table 8
Valves designed in accordance with international standards, e. g. AD technical instructions, ANSI, API, ASME, ATEX, BS, DGRL, DIN EN / ISO, GOST, KTA, MSS, RCC-M
Operation: Self-closing, pneumatic, hydraulic
Tightness at least in accordance with ANSI/FCI 70-2 Cl. V
No jamming at seat
Low pressure loss due to overrunning clutch
High resilience to temperatures
Fireproof design
Low drive torque
Compact, robust design
Minimal maintenance; on-site maintenance possible
Inspection and assembly opening
ADAMS Product range
Are you looking for another valve type or another field of application? In our product search, you have the possibility to filter for your requirements and find the most suitable solution from our broad range of tight shut-off, throttle and control valves, check valves and combined function valves.