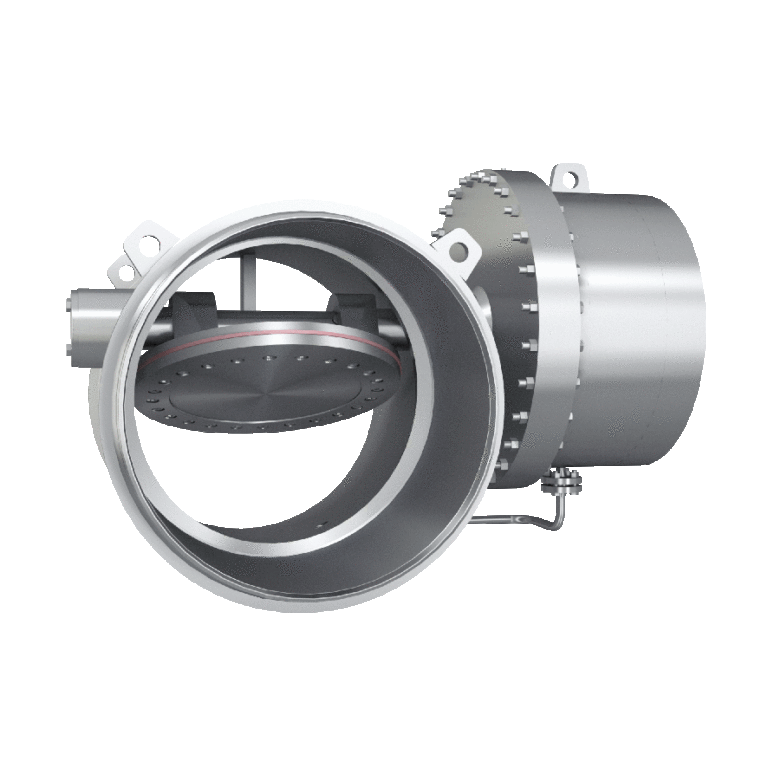 Safety when flows reverse
The hallmark of the check valve MAG is an external balancing weight that optimally counterbalances the valve disc. Its advantage is that the valve is very responsive and the disc reliably reaches its final closing position. Due to the positioning of the balancing weight in its own pressure-resistant body without gland shaft seals, the valve exhibits low internal friction, which benefits the optimal closing and opening characteristics.
As automatically closing check valve, the MAG is used in exhaust steam pipes in steam turbines as well as in pressure lines of compressors in air and gas systems.
Our valves can be fitted with either a hydraulic or pneumatic auxiliary drive with spring loading as additional closing support. An overrunning clutch of the check valve MAG enables the free movement, which is not influenced by drive and gland shaft friction.
Construction lengths in accordance with ISO 5752 BS 14 (F4) Custom-made construction lengths on request
Valves designed in accordance with international standards, e. g. AD technical instructions, ANSI, API, ASME, ATEX, BS, DGRL, DIN EN / ISO, GOST, KTA, MSS, NACE, RCC-M
We offer different types of operation for the ADAMS check valve type MAG: Self-closing, pneumatic, hydraulic, electric
Excellent tight shut-off behaviour
Minimal pressure losses
Additional screw retention
Robust design
Minimal maintenance cost
ADAMS Product range
Are you looking for another valve type or another field of application? In our product search, you have the possibility to filter for your requirements and find the most suitable solution from our broad range of tight shut-off, throttle and control valves, check valves and combined function valves.